---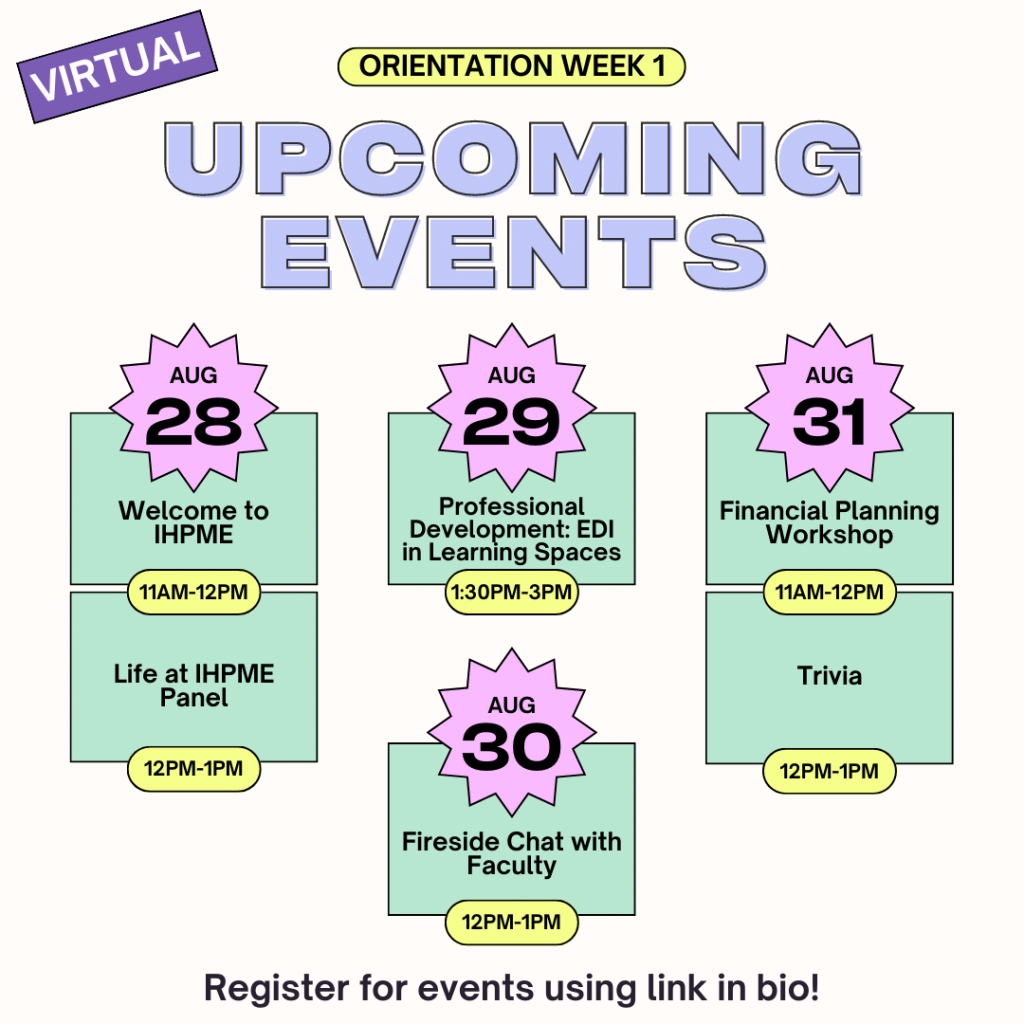 Join the IHPME GSU for Orientation Week 2023!
Registration details are here: http://surl.li/kmkmf
The IHPME GSU is excited to welcome (back!) all students for another school year! To celebrate, we're hosting a series of virtual and in-person events from August 28th – September 8th. Events include our Welcome to IHPME Webinar, a fireside chats, trivia, IHPME student meet and greet, and more! 
Activities are open to all students (regardless of year) with preference given to incoming students where space is limited.
Welcome Webinar: This virtual event will provide you with all the need to know information for thriving at IHPME. We will also introduce the IHPME Resource Guide and the IHPME Student Slack Channel.
Life at IHPME: A panel of diverse IHPME students will discussing their experiences at IHPME and answering your pressing questions!
Professional Development: EDI in Learning Spaces: The annual workshop will help learners gain an understanding of fundamental learnings about equitable, diverse, inclusive, and anti-oppressive practices in the fields of public health and health systems. This introductory workshop intends to teach learners how to problematize public health and health systems practices from an EDI lens.

Bridging the Divide: Fostering Synergy Between Professional Practice and Research at IHPME for Greater Collective Impact: Fireside chat on fostering Synergy Between Professional Practice and Research at IHPME for Greater Collective Impact. This virtual event will bring together faculty to discuss this topic. Speakers are Dr. Kuan Liu and Dr. Karen Born. Moderated by Jim Bowen.
Financial Planning Workshop: Join the IHPME Graduate Student Union for a virtual workshop where we'll delve into essential financial planning strategies tailored to your unique academic and professional journey. Learn from Alice Brummell, Financial Aid and Awards Advisor at the School of Graduate Studies and Zoe Downie-Ross, Graduate Administrator at IHPME about student financing, budgeting, and awards. This session offers practical insights to help you navigate your finances with confidence.
IHPME Trivia Hour: Quizzing you on all things IHPME and beyond! This virtual event is hosted by Emily Cordeaux (GSU Co-president).
Meet & Greet: This event is a great opportunity to meet your classmates, program peers and GSU members. Snacks will be offered. We will be meeting at a park near The Health Sciences Building (HSB), weather permitting. In case of rain, we will meet in the lounge on the 7th floor of the Health Sciences Building
Student Mixer: Join us to mix and mingle with fellow students. Location TBA (will be downtown). Finger foods (including vegan and gluten free options) will be offered.
DLSPH Welcome Day: DLSPH is hosting a full day welcome event. Check your emails for more details. This form is not include registration for that event.
IHPME Townhall: Date and time TBA (Week of Sep 11). This session is lead by the Graduate Coordinator, Tina Smith and IHPME Director, Dr. Audrey Laporte. They will answer all your IHPME questions.
Contact: Please contact IHPME GSU at ihpmegsu.uoft@gmail.com with any questions
---