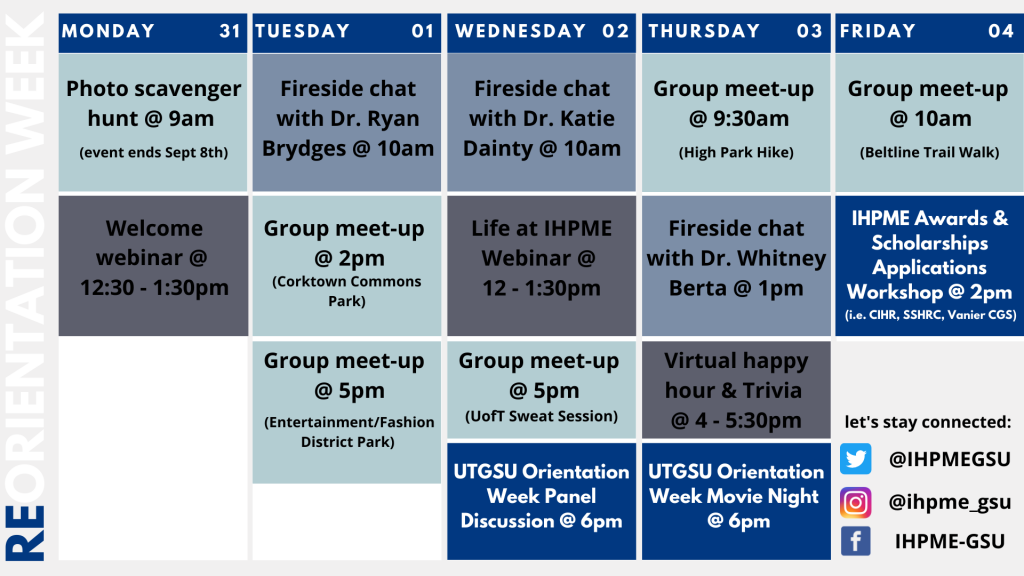 ---
Welcome Webinar: A session designed for students to learn more about the IHPME community! This is a great opportunity to connect with other incoming students and learn about the different IHPME programs, the IHPME GSU, ways to get involved this year… and more! Participants will also receive early access to our brand new graduate studies resource guide.
Fireside Chats with IHPME Faculty: Don't miss out on the opportunity to meet some of our lovely IHPME faculty! Join us for three conversations with various guest speakers as they talk about their experiences at IHPME and in the health field. Each session will end with a Q&A period.
Life at IHPME Webinar: Join upper year IHPME students as they share their experiences and offer valuable advice on ways to get involved during your graduate studies. Our student panel will be followed by breakout room sessions for incoming students (Q&A period) and returning students (roundtable discussion).
Small Group Meet-Ups: An opportunity for incoming and returning students to get outside, connect in-person with classmates, and explore the city (refreshments will be provided!). Physical distancing will be maintained and group sizes will be limited.
Virtual Happy Hour & Trivia: Grab something to sip on and get to know your peers in an informal format with fun & engaging games that are sure to build camaraderie and a sense of community!
Photo Scavenger Hunt: Spend time exploring your neighbourhood during our photo scavenger hunt! Your submissions will be used to create 'explore' guides for other IHPME students. There will be prizes for this event!
---
Registration Details!
IHPME GSU Webinars, Fireside Chats & Social Events: Join us for a week filled with informative webinars and student socials. This is a great opportunity to connect with other IHPME students and get answers to your questions before the academic year begins! Register at: https://forms.gle/T3Dp5cc6Kdgy4kv2A . Calendar invites will be sent to your preferred email address with event-specific details.
UTGSU Orientation Week Panel Discussion – What I wish I knew in First Year: Are you interested in hearing tips from the UTGSU as you begin grad school? Join UTGSU Executives as they talk about what they wish they knew in first year! Register at: https://utgsu-panel-discussion.eventbrite.com
UTGSU Orientation Week Movie Night with the International Students' Caucus (ISC): Join the ISC while watching 'The Incredible Jessica James'! This is a great opportunity to socialize with new and current students at the University of Toronto. Register at: https://movie-night-with-isc.eventbrite.com
IHPME Awards and Scholarships Applications Workshop: This annual event is designed to assist students with their applications to national competitive awards (i.e., CIHR, SSHRC, Vanier CGS). This year the Workshop will be held online, jointly with Public Health Sciences, on September 4th from 2:10-3:10 p.m. Zoom meeting details will be provided via the IHPME student listserv at 2:00 pm (10 minutes before event begins).